Have you heard about Mundic Block testing? Does it prevent from your property getting sold out? Is there a massive fall in the price if your property doesn't pass the test?  Not at all! Experts say that it is not required to make a hue and cry about it. Let's understand and clarify disconnects.
What are Mundic Blocks?
It is a generic term used for blocks made from mass concrete which show the degradation in strength and compression because of several reasons. Concrete blocks become brittle and weak, and they are unable to bear the load of the construction. You find cracks in the walls and the blocks fall apart in the worst case scenario. When unwashed sand or mine waste is used in the aggregate, the probability of degeneration is quite high. It may affect entire structure of part of it, depending on the concentration of elements that cause degeneration.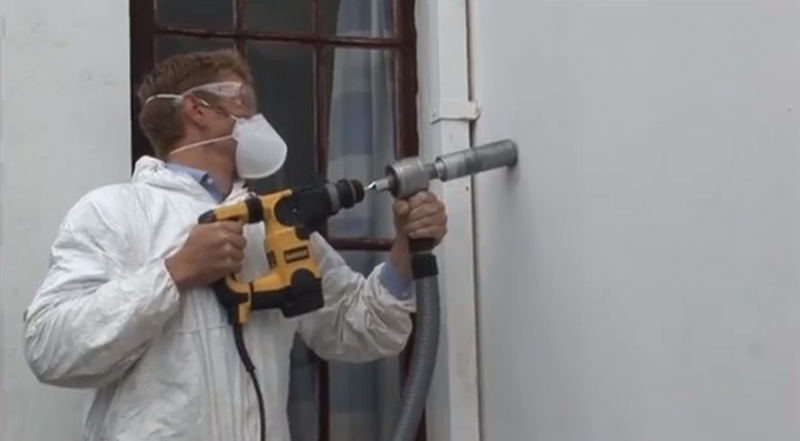 Why is there deterioration in concrete blocks?
As per structural engineering experts, deterioration in Mundic Blocks depends on the type of material it is made from. There are different types of damages caused by different substances:
Sulphide
When Sulphides get oxidized under damp and humid conditions, it produces Sulphuric Acid. It causes degeneration in the concrete by expanding it. Engineers call it the "Mundic Decay." When the Mundic is made from quarried rocks or mine residuals, this problem is quite persistent.
Grains of rocks
They cause a change in the volume after getting moist causing fractures in the cement concrete. Typically called "Killas" in the structural engineering jargon, it is a big nuisance.
Residues of furnace
When furnace residuals are used to make blocks, there are chances of cracking because of inadequately burnt charcoal. Typically, Slag and clinker from metal smelters or gasworks are used to make blocks, and there is a high probability of traces of coal in it.
When is Mundic Testing required?
Properties built before 1950 using mass concrete or concrete blocks are required to undergo the testing in West and Central Cornwall. In other parts, e.g. East Cornwall or West Devon, the properties built before 1965 are supposed to undergo the test.  Whether a property can be mortgaged or not depends on the test result.
What is Mundic Testing and how is it done?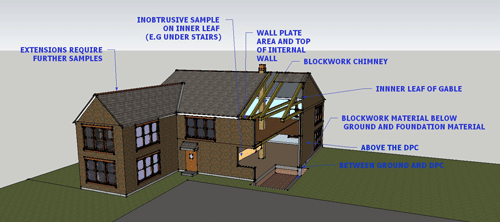 An extensive screening and testing program has been developed by the Royal Institution of Chartered Surveyors. Valuable inputs were given by the Building Research Establishment in 1994 and revised instructions in 1997. It talks about the major issues with degradation of concrete. There was another supplementary stage three expansion testing was introduced in 2005. The test comprises of a two-stage analysis and the stage three performance assessments. All the tests are carried out in the laboratory by simulating the extreme weather conditions.
Preliminary Screening Test: Engineers drill several holes of 50mm diameter from several parts of the structure to collect the "Core" from it. They try to cover the whole building by taking samples from the external walls, foundation, internal walls (if possible), and even the chimney. The screening will identify that the concrete qualifies to Class A. If the concrete can't be determined as class A or C, then Stage 2 testing is recommended.
Stage 2: This test will look into the cases that can't be determined in the preliminary screening test and classified as Class B.
Stage 3: Stage 3 test will measure the performance of the aggregate material using the core samples collected.
Classification criteria before September 2015
Before September 2015, there were three classifications of Mundic testing.
Class A: It means that the concrete is sound and in a satisfactory condition.
Class A/B: It means that the concrete is sound, but needs adequate maintenance. Also, it should be kept protected from the inhibiting factors.
Class B: Concrete looks sound prima-facie, but there may be 30% possible problems. The structure has potential problems in future.
Class C: The structure is totally unsound, and it needs repair immediately.
Classifications criteria effective from September 2015
Class A1: It means the concrete is in satisfactory condition and sound. It is nothing but Class A of earlier criteria.
Class A2: It means that the concrete is sound with adequate maintenance and protection. Class A/B of the previous criteria was equivalent to it.
Class A3: It is the new entrant in the list. If there is a need for development of Stage 3 expansion testing (which used to get designated as Class B earlier), then the structure will get Class A3 now.
Class B: There is no change in the criteria. If the structure and concrete appear sound externally with more than 30 percent problem aggregates, then it will be named Class B.
Class C: No change in this criteria as well. It means that the concrete is found in unsound condition after examination.
Statistics
There was a massive examination of properties held for Mundic Testing, and the results say that around 80 percent were passed in Class A1 of the new criteria (or A in the old criteria) after preliminary screening.  Around 15 percent had to go for Stage 2 examination, and the majority of them were classified as A2 (we can say Class A/B of the old criteria). A few were classified as A3 (A/B of the old criteria) after expansion testing. Around 5 percent were classified as Class C. For such properties, it is recommended that a Civil Engineer examines the structure.
Properties classified under Class A1 to A3 can be mortgaged subject to the lender. Class B and C can't be mortgaged.
Who is authorized to do Mundic block testing?
Consultants that have been given authority to perform Mundic block testing can only perform the same and issue a certificate. It is possible to find the list by searching with appropriate keywords. One can contact local authorities to find out the same.
It is very much important that building owners or construction companies contact the authorized testers only. The liability will be of the owner if the test found invalid later.